About Serious About Shade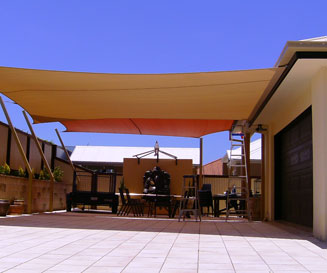 Our entire focus is on providing customers with premium quality shade solutions and outstanding service at fantastic prices!
We employ a team of experienced staff who have experience in designing, manufacturing and installing our products. From small domestic jobs, to large commercial jobs, we have you covered.
Our highly experienced team of shade sail installers have worked on numerous projects from the smallest backyard shade sails right through to huge outdoor structures at several Brisbane Bunnings garden centres, shopping centre car parks and Gloria Jeans sidewalk coffee houses. They are punctual, polite, very professional and take enormous pride in their work which we're sure that you will agree is often lacking nowadays in trade services. It doesn't matter what your budget is, our team will always treat you with respect and the utmost dedication.
Why should you choose us?
We will offer you designs to suit your needs (not 'one size fits all'). If you're not sure what you want, we'll help you to design your shaded area for FREE.
There's nothing worse than being 'talked at' by a know-it-all salesperson. We'll take the time to really listen to what you have to say and then offer advice on how to achieve the best possible shade for your budget. If you already have plans, then we're happy to work with you to turn those plans into a reality on time and within budget. For existing shade sails and structures requiring alterations or repairs we're more than happy to help out with that too!
Once we understand what you are hoping to achieve we will then recommend designs and fabrics for you to choose. We are not the largest shade sail company around, but we hope we are the hardest working company you might find to work for you.
"Only commercial grade materials are used so your shade sail will look great for years".
One thing that we have learnt from many years of experience in business designing and installing shade sails and structures is that you never ever compromise on quality or service and that's why we only use commercial grade materials. Every post and fitting is professionally engineered and extreme care is taken with every stitch and weld to ensure that they are as strong as they can be. Unlike other shade sails and structures where cheaper inferior products are often used, and attention to detail is not as good as it could be, you will be comfortable knowing that your shade structure by Serious About Shade will stand the test of time and look great for many years to come.
What we do...
Why don't you
Call Serious About Shade

now?

It'll give you a chance to discuss your ideas with someone who really knows and we most certainly will not pressure you to buy anything.